Unidade Básica de Saúde Riacho Fundo
Esse projeto foi pensado para contribuir com a nova política de humanização do SUS. Nessa visão, a Unidade básica de Saúde (UBS) é um local de acolhimento e aconselhamento, sendo muito mais um local onde se cuida do que onde se cura. Ela não possui nenhum tipo de serviço de pronto atendimento, não faz cirurgias, nem atendimentos ou exames complexos. Basicamente, destina-se a ser uma continuação do Programa de Saúde da Família (PSF), onde os agentes de saúde do governo percorrem as moradias de uma área para auxiliar a população. Nesta UBS, a grande demanda são campanhas de vacinação, acompanhamento de gestantes e atendimento odontológico. Desse pressuposto, nasceu a ideia de um local que fosse mais como uma casa e menos como um hospital. Um lugar onde as pessoas ficassem à  vontade e que também interagisse de outras formas com a comunidade, reforçando o caráter holístico da prevenção e também sua condição de direito e não de caridade. Um lugar para acolher e ser acolhido. Um lugar privilegiado de ensino e de aprendizagem, nunca um serviço menor.
This project was designed to contribute to the new humanization SUS policy. In this view, the Basic Health Unit (UBS) is a place of welcome and advice. It is much more a place to take care of than a place to heal. It does not have any kind of first aid service, surgeries or complex tests. Basically, it intended to be a continuation of the Family Health Program (PSF), where government health agents visit the houses in a specific area to assist the population. In this UBS, the great demand are vaccination campaigns, monitoring of pregnant women and dental care. From this assumption, the idea of ​​a place that works more like a home and less a hospital was born. A place where people stay at ease and that is able to interact in other ways with the community, strengthening the holistic character of prevention and also its status of a people's right instead of charity. A place to welcome and to be welcomed. A privileged place for teaching and learning, never a minor service.

Maximizando recursos: Promovendo saúde com áreas verdes
Maximizing resources: Potentializing health with green areas
A implantação do projeto resulta da adequação ao terreno e propõe uma edificação longilínea e térrea e integrada com um parque que recobre toda a área restante, visando sustentabilidade, menor impacto ambiental e custo. A arquitetura é intencionalmente simples e eficiente, deixando o protagonismo aos usuários, à  natureza e à  comunidade do entorno.
The project implantation results from the adequate use of the terrain and proposes a long one-floor building integrated with a park that covers all the remaining area, giving sustainability, smaller ecological footprint and cost. The architecture is intentionally simple and efficient, leaving the stage to users, nature and community.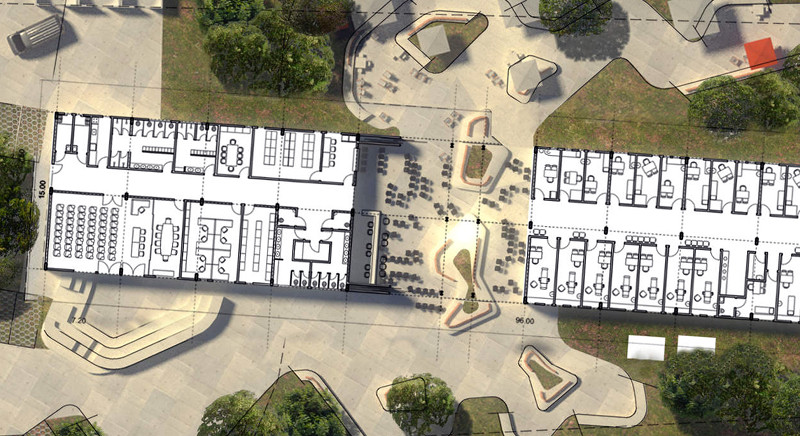 A extrapolação, pelo parque, dos limites físicos construídos é a resposta arquitetônica ao uso da UBS como um espaço de promoção de saúde e bem-estar e não apenas um espaço de cura. O espaço verde aqui proposto é uma extensão da atenção integral à  saúde, proporcionando uma recepção e espera mais acolhedoras e diversificadas.
The overflow, by the park, of the physical limits of the building is the architectural translation of the UBS as a health and well-being promotion tool, not only as a place for cure. The green space is an extension of the concept of integral attention to health, and gives a much broader sense to the welcome and reception space.

O parque permeia as áreas de espera e leva pequenos jardins para dentro da edificação, fazendo uma gradação entre as esperas internas e protegidas até a total imersão na natureza. Ele melhora toda a ambiência dos serviços prestados e funciona como um refúgio democrático de encontro e integração entre todos seus usuários, sejam eles profissionais, pacientes e acompanhantes ou pessoas oriundas da comunidade.
A diluição das esperas no parque resulta no término das filas. O espaço é fluido e orgânico, um espaço para permanecer e não apenas de esperar, uma ode ao bem-estar.
The park permeates the waiting areas and brings small gardens inside the building, creating a gradient between protected interior waiting up to total immersion in nature. It betters all the atmosphere around the care services and works as a democratic encounter and integration zone for all its users, being professionals, patients and relatives, or people from the neighbourhood.
The dilution of waiting areas into the park means the end of queues. The space is fluid and organic, a place to stay and not only a place to wait, an ode to well-being.

O paisagismo do parque não é apenas estético, mas sim utilitário. Ele é um membro ativo e indispensável do projeto. Concebido apenas com espécies nativas e disponíveis no local, ele ajuda a transformar o microclima do terreno e do entorno, tornando as temperaturas mais amenas e também contribuindo para melhorar a qualidade do ar.
A opção de um paisagismo com utilização de espécies nativas e majoritariamente arbóreas como ipê, jatobá, angelim, sucupira ou similares diminui o custo de implementação e gera uma manutenção mínima; tanto no parque como nos estacionamentos.
The landscape design of the park is not only visual, but also functional. It is an active and indispensable member of the project. Conceived only with native species available at the site, it helps to transform the microclimate of the terrain and around, lowering temperatures and contributing to a better air quality.
The choice of a landscape design that uses local and long-lasting species like ipê, jatobá, angelim, sucupira or similar lowers implementation costs and maintenance needs, in the park as well as in the parking spaces.

Ciente de que a vegetação possui seu próprio tempo de crescimento para fornecer a transformação de clima almejada, é proposto um estado intermediário de projeto onde os locais futuramente sombreados são permeados com guarda-sóis metálicos fixos.
Estes, permanecerão como coadjuvantes do espaço até o momento em que as árvores atinjam uma altura suficiente para que o parque funcione e então serão removidos. O parque adentra as áreas de recepção e espera, sendo estas previstas para permanecerem abertas durante o funcionamento da unidade.
Because the vegetation needs its own growing time before it can provide the aimed climatic transformation, an intermediary state is proposed, where fixed metallic parasols are spread along the areas to be shadowed by trees in the future.
These will act as space co-actors until the moment when the trees gain sufficient size for the park to work as designed, and will then be removed. The park permeates the waiting and reception areas, which are made to remain widely open during the working hours of the UBS.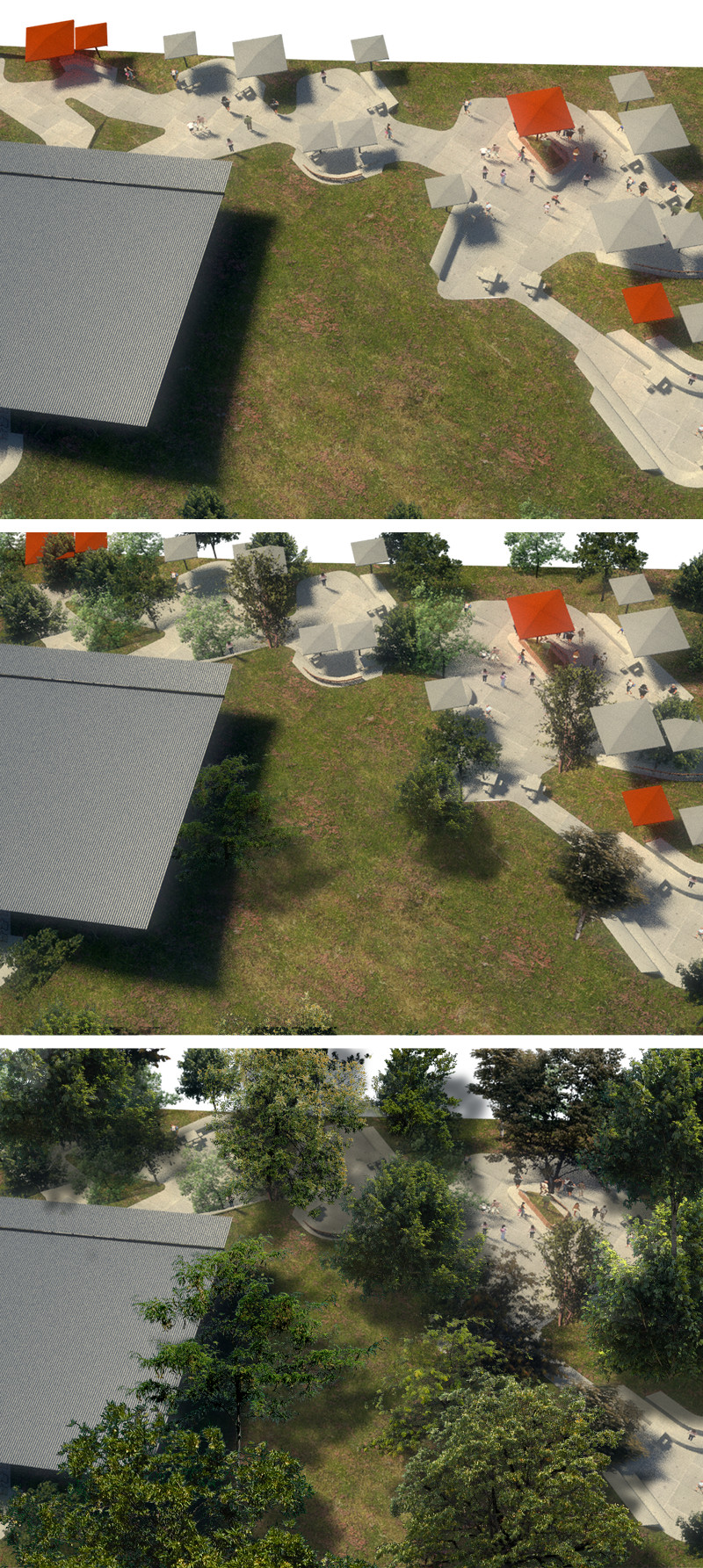 Apesar de existirem alguns bancos fixos construídos em conjunto com os canteiros internos, é prevista a utilização de cadeiras móveis.
As cadeiras utilizadas podem ser arranjadas de diferentes maneiras dentro do espaço e mesmo serem levadas para o exterior proporcionando uma maior autonomia e descontração. Para o fechamento noturno ou eventual quebra-ventos são previstos painéis metálicos perfurados e portões nos corredores.
Apesar da espera dos pacientes comportar o tamanho exigido dentro de sua área coberta, ela se espalha pelo parque, tendo sua concentração dispersada pela diminuição de assentos conforme se distancia da edificação, tornando mais fácil o rápido acesso aos consultórios.
Although fixed seating is provided around the internal gardens, the main idea is to use mobile chairs.
The chairs can be arranged in different ways inside the waiting spaces or even be carried outside, giving more autonomy and relaxing to users. When the UBS is closed at night or in case of strong winds, perforated metallic panels can partially or totally close the open spaces.
Although the waiting space has the necessary size under the covered area, it spreads out in the park, with decreasing seating density, making more direct and natural the relationship with the consultancy areas.


Devido à  natureza aberta dos edifícios, à  utilização de ventilação cruzada e à  imersão do edifício no parque, o uso de ar-condicionado central é dispensado. O aproveitamento de luz e ventilação naturais é aumentado pelos corredores e áreas de espera abertos.
A ventilação cruzada de várias maneiras: a cobertura é elevada em relação à s lajes de fechamento, as janelas são voltadas para corredores abertos e ligados diretamente à s áreas de espera perpendiculares aos ventos dominantes.
A cobertura de telhas metálicas avança para fora dos limites das paredes para evitar a insolação direta nas janelas e preservar a temperatura interior. A distribuição das esquadrias de alumínio com 1, 2 ou 3 módulos geram variações de fachada e garantem a plena ventilação.
A estrutura simples permite a adoção de várias soluções: concreto armado moldado in loco, pré-moldado ou alvenaria estrutural, sem mudanças no projeto.
The open nature of the building, the use of cross-ventilation and the immersion in the park turn air-conditioning unnecessary. Natural light and natural ventilation gains are maximised by the large corridors and the open waiting spaces.
The cross-ventilation is done in several ways: the roof is elevated above the ceiling slabs, windows are opened on the corridors and directly linked to the open areas, which are perpendicular to dominant winds.
The metallic roof extends out of the walls lines to impeach direct sun casting on the windows and preserve interior temperature. The distribution of aluminium window frames with 1, 2 or 3 modules give variation to the facades and allow full ventilation.
The simple structure allows to adopt many building solutions: precast concrete, in-loco concrete, or simple concrete blocks masonry, without impact on the project.

A chegada à  Unidade Básica de Saúde se dá por um acesso pedestre voltado ao estacionamento público, um acesso pedestre que liga o parque à  praça e uma entrada compartilhada entre pedestres e carros. Em toda a extensão do parque o carro é tolerado, sendo o pedestre o usuário principal.
A sua utilização por todas as pessoas permite mesmo a modificação da relação paciente/profissional de saúde, possibilitando encontros e ensinamentos ao ar livre entre estes, ou mesmo entre os próprios profissionais.
The arrival to the UBS is done by a pedestrian access through the public parking space, which forms a pedestrian link from the street to the park and a shared entrance between pedestrians and cars. In the whole entrance space, the car is tolerated, but the main user is the pedestrian.
Its use by everybody opens possibilities of evolution of the patient/doctor relationship, allows encounters and open-air teaching and learning between them, or even among the workers of the UBS.

O aproveitamento do espaço exterior também possibilita a inclusão de uma abordagem holística da promoção da saúde, com o uso de parquinhos infantis e equipamentos para exercícios físicos, ou mesmo espaços que podem ser compartilhados com a comunidade para aulas de ioga, alongamento ou tai chi chuan por exemplo.
O auditório se abre para um pequeno anfiteatro e pode aumentar sua área se unindo com a sala lateral, o que permite sua utilização por um público maior e mesmo pelos moradores das redondezas.
The intense use of the exterior space also makes possible a more holistic approach of health care, with the use of child parks, physical exercise equipment, or space that can be shared by the local community for activities like yoga, stretching or tai-chi-chuan.
The auditorium opens to a small exterior amphitheatre, and can have its size widened by uniting with the lateral room, which makes it usable by a bigger audience and by the local community.

Finalmente, transformar um edifício público em um espaço verde e comunitário contribui para que o projeto transcenda os limites físicos de seu terreno, melhorando a qualidade de vida de todo o entorno quer seja no âmbito social, ecológico ou mesmo de segurança. Os benefícios urbanos e ecológicos promovidos por ele se estendem mesmo aos moradores que não são seus usuários diretos e valorizam a região como um todo, resultando numa maximização dos recursos públicos investidos.
Finally, turning a public building into a green community space contributes to make the project transcend the physical limits of its terrain, bettering the quality of life of all its surroundings, in the social, ecological or even security spheres. The urban and ecological benefits brought by it extend to everybody, even to people who live nearby and are not direct users of the UBS, and raise the quality of the whole region, a maximisation of the invested public money.
Pranchas originais do concurso:
Original sheets of the competition:
Este projeto é de código aberto. Os arquivos estão disponíveis no nosso github.
This project is open-source. Files are available on our github.